Ayurveda Cooking Course in Rishikesh, India
Nourishing Wellness: Ayurveda Cooking Course for Vibrant Health
In Ayurveda Cooking Course, you'll learn the art of preparing nourishing meals that promote health and balance.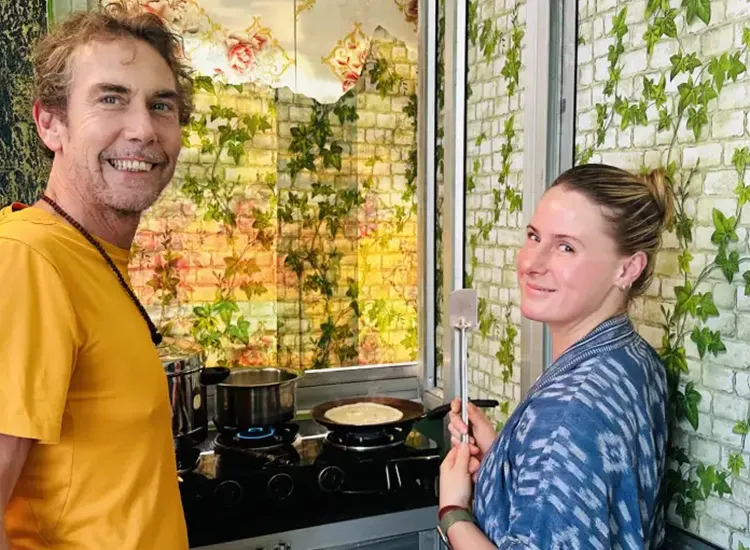 Ayurveda can work for anyone. You could be a yoga teacher, a coach, a mom, an entrepreneur, a wife, a personal stylist, a speaker, an athlete, or a 9 to 5 working woman. Ayurvedic Cooking Course unfolds the secrets of healthy recipes dating back to the books of Ayurveda.The main objective of the Ayurvedic cooking course is to understand the individual body type and choose the right food for your body.
At Haritha Yogshala you will learn the importance of Ayurvedic diet in your lifestyle. Ayurveda Cooking course teaches you to prepare meals in accordance to the individual constitution of tridoshas. This Ayurveda course teaches you the properties of different spices and their uses in preparation of healthy Ayurvedic diet.
The difference between a balanced and unbalanced diet gives birth to the unwanted diseases. Ayurveda has emphasized on the importance of a balanced sattvik diet to lead a healthy and happy life. Ayurveda Cooking Recipes put in the most vital aspect of wellness in your lifestyle by balancing your body constitution (vata, pita, kapha). Learn the Vedic food recipes to achieve a naturally sound wellbeing.
Ayurveda Cooking Classes
Duration: 7 Days | 14 Hours
Physical well-being is needed to perform day to day tasks, and home-cooked food prepared using naturally healthy ingredients is without a doubt the best way to attain good health. Ayurveda says, "You are what you eat." Cooking aptitudes used to be passed down from generation to generation, but this knowledge became obscure over the years. Haritha Yogshala offersthis branch of Ayurveda to the learners to unfold the significance of a right diet in life.
Ayurveda cooking course provides the essence of Ayurveda and makes you more knowledgeable on the most important Ayurvedic diet principles along with deep insight about the natural way of living. Ayurveda Cooking Course lays down the importance of keeping a person healthy just by eating right.
Why Choose Haritha Yogshala for Ayurveda Cooking Classes in Rishikesh?

In Haritha Yogshala – A school of Yoga and Ayurveda teachings, 7 days Ayurveda cooking certification course in Rishikesh, India, you will learn about principals and science of Ayurveda, Individual body type, nutrition and diet management for diseases. At the end of the Ayurveda cooking course, you will ready to prepare your food according to your body constitution & detoxify your body using Ayurvedic food in a natural way.
The 7 days Ayurveda cooking course at Haritha Yogshala is perfect for those who are looking to learn Indian traditional Ayurvedic food recipes or to learn the Ayurveda cooking for self healing. After the successful completion of the course, a certificate will be provided by Haritha Yogshala.
Highlights: Ayurveda Cooking Course
Introduction of Ayurveda and its significance
Introduction to Tridosha & Prakriti (know your body type)
Concept of Agni (digestive fire) & Ama (biological toxins)
Concept of Ahara-Vihara (life style according to Yoga & Ayurveda)
Knowledge of common Ayurvedic herbs & spices
Home remedies with Ayurveda herbs & spices
Ayurveda Nutrition & diet management for different disease & dosha imbalance
Introduction of the six tastes: hot, sweet, salty, sour, bitter & astringent
Introduction to three Gunas: Sattva (Tranquil or subtle energy), Rajas (Active energy) & Tamas (Inertia or dullness)
Practical sessions: (14 Ayurveda Food Recipe)

- Ayurvedic vegetable curries, soups, and daals
- Ayurvedic appetizers, digestives and snacks

Sanskrit Ayurvedic terms
Q&A Session
Ayurvedic
Get a pleasing experience of Vedic lifestyle by learning the Ayurvedic Cooking recipes of our Vedic gurus for long and healthy life at Haritha Yogshala.
Enroll yourself to these mesmerizing flavorsome cooking classes at the best Ayurveda and best Yoga School-Haritha Yogshala, Rishikesh, India.
The benefits of an Ayurveda Cooking Course include
Balanced Health: Learn to prepare meals tailored to your dosha (body type) for overall well-being.
Enhanced Digestion: Discover foods and cooking methods that aid digestion and promote gut health.
Natural Healing: Harness the power of herbs and spices for natural healing and immunity.
Weight Management: Achieve and maintain a healthy weight through mindful eating.
Stress Reduction: Incorporate Ayurvedic principles to reduce stress and anxiety.
Enhanced Energy: Boost vitality and energy levels through personalized nutrition.
Better Sleep: Improve sleep quality by choosing foods that support relaxation.
Radiant Skin and Hair: Unlock the secrets to Ayurvedic beauty through diet.
Mind-Body Balance: Achieve mental clarity and emotional balance through Ayurvedic cooking.
Lifelong Knowledge: Gain valuable skills and knowledge for a lifetime of healthy eating and living.
Ayurveda Cooking Course Prices, Upcoming Dates & Accommodation

Language: English
Available: Yes
| Program | International |
| --- | --- |
| Course Fees (Without Accommodation & Food) | USD 299 USD 249 |
| Semi-Deluxe Accommodation & Food (per day) | USD 22 |
| Deluxe AC Accommodation & Food (per day) | USD 35 |
To apply for the 7 day Ayurveda cooking course, a non-refundable deposit of 50$ or 4000 INR is required. This amount is included in the prices listed above. You can make the remaining course fees payment after arrival to the course on the first day.
Accommodation facility is available in Haritha Yogshala campus.
After successful completion, certificates are issued by Haritha Yogshala organization.
No classes will take place on Public Holidays.
Please read the Frequently Asked Questions >> for more information.
To sign up for the course, please bring a valid identity proof & 2 passport size photographs.
Above fees applicable from 1st Jan, 2023 to 31st July, 2023.