Yoga and Meditation Retreat in Rishikesh, India

Yoga at Haritha Yogshala is widely known for its tranquility and tradition. The uniqueness of Yoga teachers in Haritha is enough to make you experience the different styles of yoga suiting every individual. Keeping the necessity of a balanced lifestyle, Haritha Yogshala offers a blissful combination of Yoga and Meditation keeping in view your individual goals of life. This retreat encompasses all the aspects of Yoga and meditation that may assist you in a balanced journey of life.
Yoga and Meditation Retreat Duration: 7 / 14 Days
Haritha Yogshala offers a 7 and 14 days Yoga & meditation retreat in Rishikesh. This is a great opportunity to disconnect from the world and connect with yourself. The yoga and meditation retreat is like a holiday with great benefits for health. You can call it health with the holiday. You can book a special program which offers a unique blend of yogic practices and mindfulness meditation sessions.
Why Choose Haritha Yogshala for Yoga and Meditation Retreat Rishikesh?
Haritha Yogshala is situated amidst the green cover of the world's yoga capital, Rishikesh. Rishikesh is in nature's nest with forests, caves, hills and pure waters of Ganga all around. You will enjoy the complimentary massage therapies with steam baths that are included in the package and also the excursion to places of great natural beauty. With that comes the unique hospitality of our dedicated team. You will remember the experience for the whole life and surely come back with your friends/family.
Highlights: Yoga and Meditation Retreat
Daily Pranayama group sessions
Daily Yoga group sessions
Daily Meditation group sessions
Daily Yogic Cleansing group sessions
Yoga Nidra group sessions
Personalized Ayurvedic Doctor consultation
Ayurveda massage and steam bath - 02
Indian Masala Tea and Herbal tea
Excursions on Sundays (Nearby Rishikesh)
Indian masala tea or herbal tea.
Single Accommodation with all essential facilities free wifi and hot shower.
Yoga and Meditation Benefits

This detoxification retreat is enough for rejuvenating and calming your body, soul and mind. The retreat is pleasingly designed to restore the cosmic purity of your body. Panchakarma Detoxification retreat clean your body by flushing out the toxins and prevents it from unwanted diseases by drawing off toxin accumulation.
The Panchakarma therapy is primarily divided into three distinct steps:
Stress Reduction: Yoga and meditation help alleviate stress, promoting relaxation and mental well-being.
Improved Flexibility: Regular practice enhances flexibility, leading to better physical mobility.
Enhanced Focus: These practices sharpen concentration and mental clarity.
Emotional Balance: Yoga and meditation foster emotional stability and resilience.
Physical Fitness: They contribute to overall fitness, promoting strength and balance.
Accomodation and Food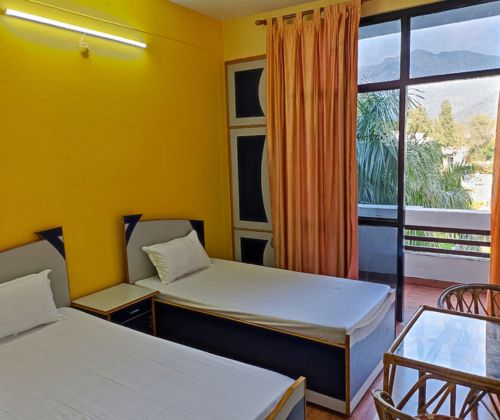 Accomodation
Our place in Rishikesh is like a cozy home for yoga students. We have comfy rooms with nice beds and beautiful views of himalayas. The bathrooms are clean and have everything you need. We serve tasty vegetarian meals to keep you healthy. Our friendly staff is here to help you with anything you need. It's a peaceful and safe place, close to yoga centers, and it doesn't cost too much. We want you to focus on yoga and have a great time during your stay with us!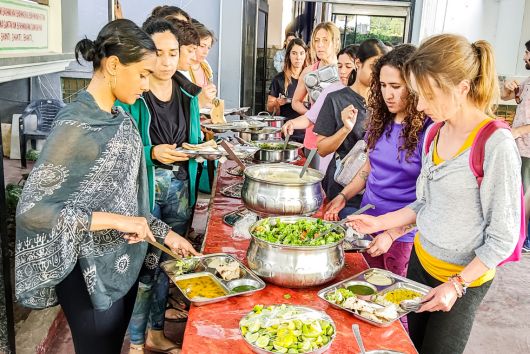 Food
In Rishikesh, the food we offer to our yoga students is both tasty and healthy. We serve mainly vegetarian meals that are packed with delicious flavors. These meals provide you with the energy and vitality required for your yoga practice. We prioritize clean and nutritious food to ensure you feel your best while you're here. Relish our straight forward and wholesome dishes that nourish your body and mind, enhancing your overall yoga Experience.
Yoga and Meditation Retreat Daily Tentative Schedule

Get a closer look at our daily itinerary, providing you with a clear and organized outline of each day's activities and events.
Daily Schedule
06:30 AM - 07:30 AM Yogic Cleansing
07:30 AM - 08:00 AM Yoga Asana Class
09:15 AM - 10:00 AM Breakfast
11:00 AM - 12:00 PM Meditation Session
01:15 PM - 02:00 PM Lunch
02:00 PM - 03:00 PM Rest Time
03:00 PM - 04:00 PM Yoga Practice & Q&A
06:00 PM - 07:00 PM Ganga Arti
07:15 PM - 08:00 PM Dinner
08:15 PM - 09:00 PM Yoga Nidra Session
Schedule On Sunday (Excursion Day)
Whole day is Rest / Holiday / Field Visits
Includes Breakfast / Lunch / Dinner in Campus
Yoga & Meditation Retreat in Rishikesh - Prices / Availability - 2023

Available: Yes
| Program | International |
| --- | --- |
| With Semi-Deluxe Accommodation & Food | USD 499 USD 399 |
| With Deluxe AC Accommodation & Food | USD 599 USD 490 |
Available: Yes
| Program | International |
| --- | --- |
| With Semi-Deluxe Accommodation & Food | USD 899 USD 799 |
| With Deluxe AC Accommodation & Food | USD 1199 USD 980 |
Frquently Asked Questions
Find answers to commonly asked questions about Yoga and Meditation Retreat in Rishikesh
Our retreats typically range from one week to a month. You can choose the duration that best suits your schedule and needs.
No prior experience is required. Our retreats cater to participants of all levels, from beginners to advanced practitioners. Our experienced instructors will adapt the sessions to your skill level.
Yes, our retreats offer vegetarian and vegan meal options. Please inform us of any dietary restrictions or allergies when booking, and we will do our best to accommodate your needs.
A typical day at our retreat includes morning yoga and meditation, followed by meals and free time for relaxation or exploration. Afternoon sessions and workshops are also scheduled. Evening meditation or group activities may conclude the day. The schedule may vary depending on the specific retreat.
Comfortable and modest clothing suitable for yoga and meditation is recommended. In respect for local customs, we advise dressing modestly when outside the retreat premises.
To secure your place in our retreat, please visit our website or contact our booking team for availability and reservation details.
To apply for the Yoga and Meditation Retreat at Haritha Yogshala, Rishikesh, a non-refundable deposit of $100 or 5,000 INR is required. This amount is included in the prices listed below. You can make the remaining retreat fee payment after arrival to the center on the first day.
Treatments will be from Monday to Saturday only.
No treatments will take place on Public Holidays.
Please read the Frequently Asked Questions >> for more information.
To sign up for the Retreat, please bring a valid identity proof.
Above rates applicable from 1st Jan, 2023 to 31st Dec, 2023.