Marma Therapeutic certification course in Rishikesh, India
Discover the art of Marma therapy through our certification course.
Marma therapy, an ancient Indian practice, uses gentle pressure on specific body points to enhance physical and mental well-being by restoring energy balance and promoting relaxation.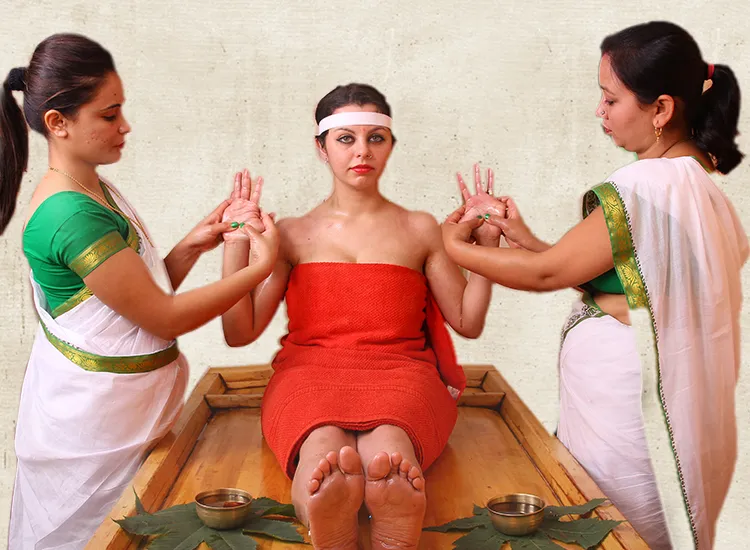 Marma Therapeutic Certification Course - Duration: 5 Days

The use of pressure points for massage and accupuncture has become a regular feature in natural healing today. In Ayurveda, the traditional medicine of India, these pressure points are called Marmas, meaning 'vulnerable' or 'sensitive' zones in body. Such points can be used specifically for the diagnosis and treatment of diseases or generally for promoting health and longevity.
Marma Therapeutic course imbibes the essence of Ayurveda and will make you more knowledgeable of the most important therapy of Ayurveda along with a deep insight about natural way of living & the importance of keeping a healthy lifestyley.
The Marma Therapeutic Ayurveda course is perfect for those who are looking forward to expand their knowledge in Ayurveda and also best when you are planning to open your own Ayurveda massage center or want to be a massage therapist. A certificate will be provided to you after successful completion of the course.
Course Curriculum

Table of Marma and their treatments:
Marmas on the Arms and Hands
Marmas on the Legs and Feet
Marmas on the Abdomen and Chest
Marmas on the Back and Hips
Marmas on the Head and Neck
Q&A Session
Daily 1 hour Theory and 1 hour Practical
Course manual will be provided in the beginning of the course.
Marma Therapy Certification Course Fees - 2023

Language: English
Available: Yes
| Program | International | Indian |
| --- | --- | --- |
| Course Fees (Without Accommodation & Food) | USD 299 USD 249 | INR 20,000 |
| Semi-Deluxe Accommodation & Food (per day) | USD 22 | INR 1,750 |
| Deluxe AC Accommodation & Food (per day) | USD 35 | INR 2,800 |
To apply for the Marma Therapeutic course, a non-refundable deposit of $50 or 3500 INR is required. This amount is included in the prices listed above. You can make the remaining course fees payment after arrival to the course on the first day.
Accommodation facility only available in Haritha Yogshala, Rishikesh, which is not included in the course fee.
After successful completion, certificates are issued by Haritha organization.
No classes will take place on Public Holidays.
Please read the Frequently Asked Questions >> for more information.
To sign up for the course, please bring a valid identity proof & 2 passport size photographs.
Above fees applicable from 1st Jan, 2023 to 31st July, 2023.