Ayurveda Massage Course in Rishikesh, India
Get Certified in the art of Ayurvedic traditional massage course.
Our Ayurveda Massage Course offers hands-on training in ancient therapeutic techniques. Learn to balance energies, enhance relaxation, and promote holistic well-being.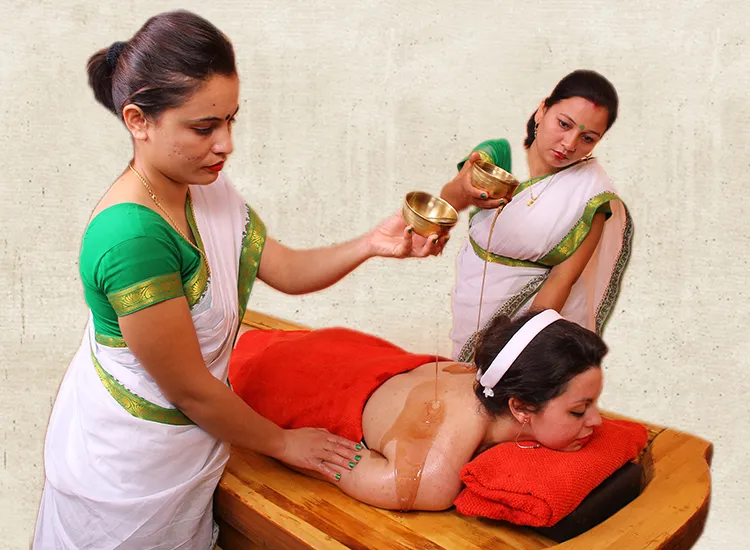 Step into the state of divine stress-free relaxation with a unique experience of the Ayurveda Massage Course. Ayurveda Traditional Massage Course has borrowed its essence from the principles of Ayurveda. Here one will learn the most popular massage therapy which is a poised masterpiece of Ayurveda. This Ayurveda Course at Haritha will make you experience the ethnic massage techniques with the medicinal herbal oil. Learn the traditions of In the beautiful serene vibe of the world's Yoga capital Rishikesh.
Ayurvedic Traditional Massage (Abhayanga) Course
Duration: 7 Days | 12 Hours
Ayurveda Massage (Abhyanga) is a very popular Ayurvedic massage therapy in which the whole body is massaged using the medicinal herbal oils. Abhyangam leads to a very relaxing experience. Ayurvedic therapy benefits the whole body physically, mentally & emotionally whilst it also balances the doshas.
The Ayurveda massage course is one of the best Ayurveda Massage Course in India and is divided into two sessions. First will be the theoretical session in which you will understand the basic principles of Ayurveda along with the history of Ayurveda. Knowledge of body types (Tridosha) according to Ayurveda, the seven elements and the main herbs & herbal oils in Ayurveda is also imparted to the students.
The second session is totally based on practice in which a practical demo of Abhayangama is given along with an experience of a one-hour Ayurveda Abhayangam massage.
This program is a perfect rejuvenation and educational package for the candidates. In which we at Haritha provide in-depth knowledge of the Ayurvedic oils to be used, different marma points(acupressure points) and the Abhayanga massage would be done and various other important principles of Ayurveda massage would be explained to the students.
Course Curriculum of Ayurveda Massage Course(Traditional Massage)

Theory Session
Ayurveda: An Ancient Science of Life
Introduction of Ayurvedic Principles
Introduction to the philosophy of Tridosha & Prakriti (Know Your Body Type)
Introduction to Seven Tissues (Dhatus)
Knowledge of the common Ayurvedic Herbs and Oils
Sanskrit Ayurvedic Terms
Practical Session
Full Body Massage
Head Massage
Face and Head Massage
Neck and Shoulder Massage
Back Body Massage
Q&A Session
Daily 30 Minutes Theory and 1.5 hour Practical Plus a one-time Therapy Session experience of: Abhayanga - 45 Mins
Traditional Ayurved Massage Couse in Rishikesh:

Ayurveda Massage Course at the finest Ayurveda and best Yoga School in Rishikesh offers the pure lessons of Massage Course. When it comes to India, we are the best to make you encounter the real vibes of Vedic time while learning and practicing Ayurveda. Do not just read and think, it is time to have a real-life experience of this placid Ayurveda Massage Course coming right from the Vedic heritage of . Enroll yourself to Ayurveda Massage Course at Haritha Yogshala, Rishikesh, India.
Ayurvedic Massage Course Daily Schedule
Ayurvedic Massage Course Schedule: Day 1 to Day 7

Theory:
What is Ayurveda?
Origin and History of Ayurveda
Branches of Ayurveda
Why to learn Ayurveda? And Its Benefits
Importance of Ayurveda in Daily Life
Knowledge of the common Ayurveda oils
Introduction of traditional Ayurvedic Massage (Abhayanga):
1. What is Abhayanga?
2. Importance & Benefits of Abhayanga.
3. Abhayanga procedure.
4. Do's and Don'ts of Abhayanga.
5. Pre & Post requirements of Abhayanga.
6. Contraindications for Abhayanga
Practical:
Full Body Massage along with Practical demonstration
Theory:
Introduction to Tridosha & Prakriti (Know Your Body Type)
Principles of Head Massage
Practical:
Practical of Head Massage
Theory:
Introduction to Seven Tissues (Dhatus)
Introduction of Upper Body massage
Practical:
Practical of Neck and Shoulder Massage
Theory:
Ayurveda oils
Introduction of Face Massage.
Practical:
Practical of Face Massage
Theory:
Introduction of Front Body Massage
Practical:
Practical of Front Body Massage
Theory:
Introduction of Back Body Massage
Practical:
Practical of Back Body Massage
Theory:
Project and Practical
Question & Answers
Practical:
Examination – Full Body Massage (Abhayanga)
Experience of Full Body Massage(Abhayanga) Certification Distribution
Ayurvedic Massage Course Fees, Upcoming Dates & Accommodation

Language: English
Available: Yes
| Program | International | Indian |
| --- | --- | --- |
| Course Fees (Without Accommodation & Food) | USD 299 USD 249 | INR 20,000 |
| Semi-Deluxe Accommodation & Food (per day) | USD 22 | INR 1,750 |
| Deluxe AC Accommodation & Food (per day) | USD 35 | INR 2,800 |
To apply for the 7 days Ayurvedic Massage Course, a non-refundable deposit of $50 or 4000 INR is required. This amount is included in the prices listed above. You can make the remaining course fees payment after arrival to the course on the first day.
Accommodation facility is also available in Haritha Yogshala campus, Rishikesh, which is excluded in the cost.
After successful completion, certificates will be issued by Haritha Yogshala organization.
No classes will take place on Public Holidays.
To sign up for the course, please bring a valid identity proof & 2 passport size photographs.
Above fees applicable from 1st Jan, 2023 to 31st July, 2023.