Thai Yoga Massage Certification Course in Rishikesh
Learn to provide the ultimate relaxation experience via Thai Yoga Massage
Thai Yoga Massage combines ancient techniques of gentle stretching, acupressure, and mindfulness to create a profound sense of relaxation and harmony. This course is designed to teach you the therapeutic benefits of this practice.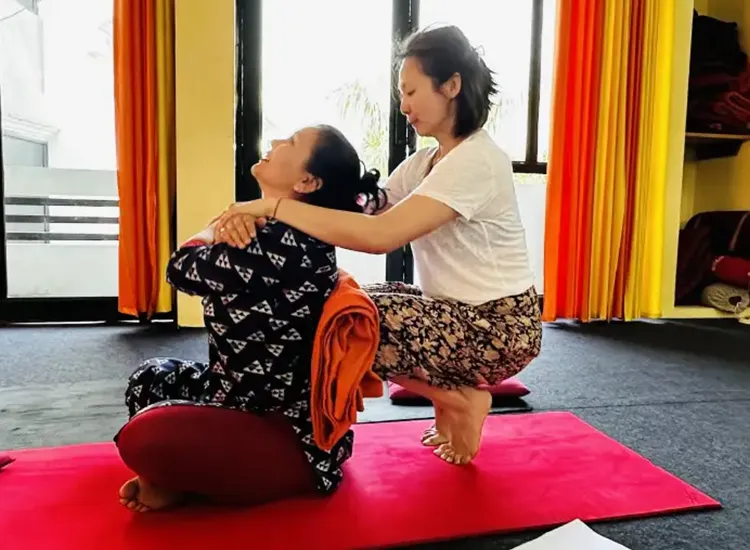 Thai Yoga Massage Certification Course
Duration: 5 Days | 10 Hours
Thai massage is a branch of massage, assisted stretching techniques developed in Thailand, and influenced by the traditional ayurvedic systems of India, China, and Southeast Asia.
Thai-Yoga is an "assisted" style of bodywork practiced with a partner that is easy, relaxing, fun to learn and manifests instant positive results.
This interactive and simple introduction to Thai Yoga Massage training will teach you new skills to give and receive loving touch - skills that will leave you and your partner feeling relaxed, renewed, and completely euphoric.
This course will enable you to work in supine, side, seated and prone positions. You will be Introduced to the concept of energy lines (SEN) and acupressure points. You also learn the body dynamics and its usage to perform a high quality bodywork. On completion of the course you will be able to deliver 60-120 min of bodywork for relaxation with ease.
This course is ideal any individual or couples who are interested in
Strengthening their relationship, Self-Care and stress relief, exploring holistic wellness, massage enthusiasts, anyone seeking relaxation and renewal.
No prior experience is required, and participants of all backgrounds can join the Thai Yoga Massage course at Haritha Yogshala.
Course Structure

History of Vedic Thai Yoga Bodywork techniques, its benefits, contraindications and principles of Thai Yoga.
Knowledge of Movement & Alignment (Anatomical) and Trigger points.
Anatomical understanding of the human body.
Body Mechanics.
Introduction to Foot Reflexology.
Introduction to Energy Points of Yoga and Ayurveda
Working on Energy lines (SEN) on the legs.
Energy lines on the legs.
Front Position – Massage on the legs and feet.
Transition
Abdomen and Chest Massage.
Shoulder, arms and hand massage(Energy lines of arms and work on palm).
Neck, Head, and Face Massage.
Open groin series.
Knee / Leg up series.
Double leg exercises.
Bodywork in prone position.
Bodywork in Seated position.
Practice sequences to deliver balanced bodywork.
Performing bodywork – Complete Series.
Q&A Session
Daily 30 minutes Theory and 90 minutes Practical
Course manual will be provided in the beginning of the course.
This form of bodywork (Thai Massage) is often performed on the floor, and the receiver wears comfortable clothes that allow for movement. (No oils are used in Thai Yoga Massage.)
Thai Yoga Massage Course Fees, Upcoming Dates & Accommodation

Language: English
Available: Yes
| Program | International |
| --- | --- |
| Course Fees (Without Accommodation & Food) | USD 299 USD 249 |
| Semi-Deluxe Accommodation & Food (per day) | USD 22 |
| Deluxe AC Accommodation & Food (per day) | USD 35 |
To apply for the 5 day Thai Yoga massage training course, a non-refundable deposit of $100 or 7,000 INR is required. This amount is included in the prices listed above. You can make the remaining course fees payment after arrival to the course on the first day.
After successful completion, certificates are issued by Haritha Yogshala organization.
Classes will be from Monday to Saturday only.
No classes will take place on Public Holidays.
Please read the Frequently Asked Questions >> for more information.
To sign up for the course, please bring a valid identity proof & 2 passport size photographs.
Above fees applicable from 1st Jan, 2022 to 31st July, 2022.