Ayurveda Vata Pitta Kapha - Tridoshas Balancing Retreat in Rishikesh, India

Ayurveda Tridoshas Balancing Retreat
Duration: 7 / 14 Days
Ayurveda actually signifies 'art of life' and depends on most established therapeutic framework began for a solid way of life. Ayurveda speaks to a straightforward mending approach comprehensive in nature. It proposes to achieve a profound established reason for the disorder to fix it by knowing oneself.
Tridoshas explains the three doshas a human body is composed of. As we are exposing ourselves towards a modern lifestyle our body is getting imbalanced due to stress, dietary patterns, sedentary lifestyle or any other such reasons. An imbalanced lifestyle can lead to a disturbance in the proportion of doshas in a human body which can often lead to certain mental and physical ailments.
The Concepts of 'Vata', 'Pita' and 'Kapha' are the basics of Ayurveda and correct and in-depth knowledge of these concepts leads one to understand the workings of Ayurveda. These concepts are also called 'Doshas' and an imbalance in these doshas causes an ailment in a person which can then be healed through the right application of dosha correcting techniques.
The word 'doshas' are often synonymously used with the 'Prakriti'. These doshas are based on the Hindu concept of five elements – wind, space, fire, earth, and water. Haritha yogshala has come up with a path to rebalance your doshas to rejuvenate your body, soul and mind through "Ayurveda Vata Pitta Kapha - Tridoshas Balancing Wellness Retreat in Rishikesh India 7/14 days." Haritha since years has been working in Ayurveda to treat the body naturally and reward a healthy life to humankind.
Haritha yogsahala ensures a recollection of the mix of three doshic energies. On the most crucial level, Pitta is our digestion, Kapha is our structure, and vata is the versatility that brings activity and life into creation. Without every one of the three energies, we basically couldn't exist.
To balance a every person constitution, Haritha provides you with a Clinical Ayurvedic Specialist who directs a consultation, investigating each part of the individual. A proper physical and mental assessment distinguishes the equalization of energies in an individual's body and in additional regions of unevenness. Once the area and the levels of imbalances are recognized, the Clinical Ayurvedic Specialist would then be able to personalize a treatment program using the proper eating regimen and herbs, therapies, hues, yoga, and meditation went for re-establishing or looking after balance.
Personalized Daily Ayurveda therapies sessions.
Daily Yoga group sessions.
Daily Meditation group sessions.
Daily Pranayam Sessions.
Personal Ayurvedic Diagnosis of the body type.
Introduction of herbs and medicated oils.
Ayurvedic cooking introduction and demonstration
Detoxification and rejuvenation therapy via herbal massage and steam bath.
Yogic delicious meals.
Indian masala tea or herbal tea.
Private Accommodation free wifi and hot shower.
Ayurveda Tridoshas Balancing Benefits

Holistic well-being for body and mind.
Improved immunity and resistance to illnesses.
Increased energy levels and reduced fatigue.
Better weight management and maintenance.
Emotional stability and reduced mood swings.
Improved focus, memory, and mental clarity.
Mitigation of inflammation and joint health.
Hormonal balance and reduced disturbances.
Accomodation and Food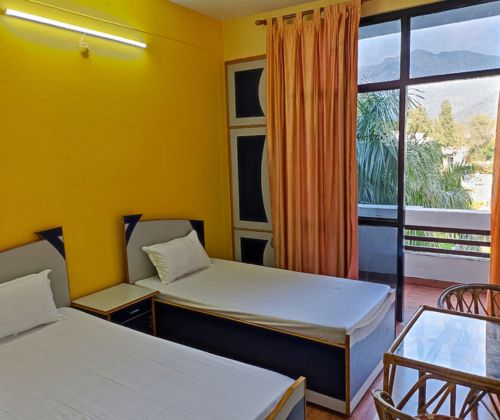 Accomodation
Our place in Rishikesh is like a cozy home for yoga students. We have comfy rooms with nice beds and beautiful views of himalayas. The bathrooms are clean and have everything you need. We serve tasty vegetarian meals to keep you healthy. Our friendly staff is here to help you with anything you need. It's a peaceful and safe place, close to yoga centers, and it doesn't cost too much. We want you to focus on yoga and have a great time during your stay with us!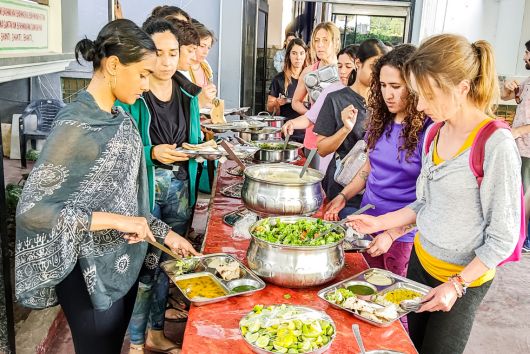 Food
In Rishikesh, the food we offer to our yoga students is both tasty and healthy. We serve mainly vegetarian meals that are packed with delicious flavors. These meals provide you with the energy and vitality required for your yoga practice. We prioritize clean and nutritious food to ensure you feel your best while you're here. Relish our straight forward and wholesome dishes that nourish your body and mind, enhancing your overall yoga Experience.
Ayurveda Tridoshas Balancing Daily Tentative Schedule

Check out our daily itinerary, presenting an overview of each day's activities and events.
Daily Schedule
07:00 AM - 08:00 AM Asana & Pranayama Session
09:15 AM - 10:00 AM Breakfast
11:00 AM - 12:00 PM Ayurveda Therapy Session
01:15 PM - 02:00 PM Lunch
02:00 PM - 03:00 PM Rest Time
03:00 PM - 04:00 PM Ayurveda Therapy Session
04:15 PM - 05:15 PM Meditation Session
06:00 PM - 07:00 PM Ganga Arti / Free Time
07:15 PM - 08:00 PM Dinner
Schedule On Sunday (Excursion Day)
Whole day is Rest / Holiday / Field Visits
Includes Breakfast / Lunch / Dinner in Campus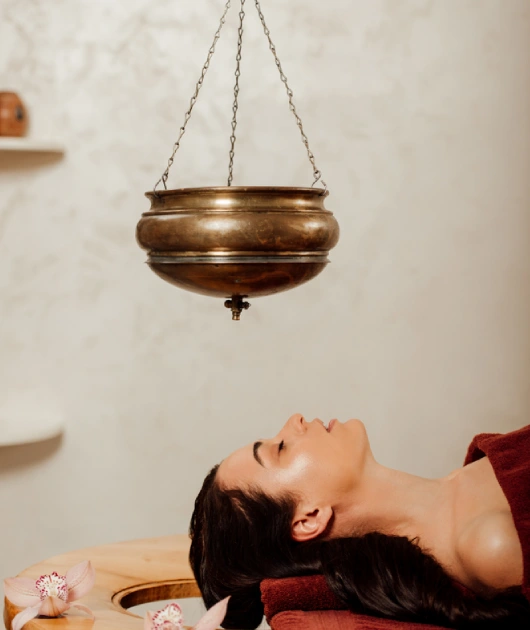 Ayurveda Tridoshas Balancing Wellness Retreat - Fees

Available: Yes
| Program | International |
| --- | --- |
| With Semi-Deluxe Accommodation & Food | USD 599 USD 499 |
| With Deluxe AC Accommodation & Food | USD 590 |
Available: Yes
| Program | International |
| --- | --- |
| With Semi-Deluxe Accommodation & Food | USD 1099 USD 999 |
| With Deluxe AC Accommodation & Food | USD 1189 |
Guest Testimonials

Frequently Asked Questions
Find answers to commonly asked questions about Ayurveda Tridoshas Balancing Retreat in Rishikesh
The Tridoshas are the three fundamental energies or doshas—Vata, Pitta, and Kapha—that govern various physiological and psychological functions in the body.
Balancing the Tridoshas is essential for maintaining good health and preventing imbalances that can lead to diseases or discomfort.
Consulting with an Ayurvedic practitioner can help you identify your dominant dosha through a personalized assessment that considers your physical, mental, and emotional characteristics.
Dietary choices, lifestyle, stress, and environmental factors can all contribute to dosha imbalances.
Yes, adopting a dosha-specific diet, lifestyle, and daily routine can help balance the Tridoshas naturally.
Ayurvedic treatments, such as Panchakarma therapies, and herbs like Ashwagandha, Triphala, and Turmeric, can be used to balance doshas. Consult an Ayurvedic practitioner for guidance.
The duration to balance doshas varies for each individual and depends on the severity of the imbalance. It may take weeks to months of consistent effort.
Yes, dosha balancing can alleviate a wide range of health issues, including digestive problems, skin disorders, stress, and more.
When done correctly under the guidance of an Ayurvedic practitioner, dosha balancing practices are safe and generally free of side effects.
Ayurveda can benefit most people, but it's important to consult with an Ayurvedic practitioner, especially if you have chronic health conditions or are pregnant.
To apply for the Ayurveda Tridoshas Balancing Retreat at Haritha Yogshala, Rishikesh, a non-refundable deposit of 100 USD or 5,000 INR is required. This amount is included in the prices listed below. You can make the remaining retreat fee payment after arrival to the center on the first day.
Treatments will be from Monday to Saturday only.
No treatments will take place on Public Holidays.
Please read the Frequently Asked Questions >> for more information.
To sign up for the Retreat, please bring a valid identity proof.
Above rates applicable from 1st Jan, 2023 to 31st Dec, 2023.