Intensive Ayurveda Course in Rishikesh, India
Learn Ayurveda, the ancient science of holistic health
Suitable for spa & wellness, industry professionals, yoga professionals, spa & salon managers, wellness center owners, Ayurveda trainers and therapists, doctors, holistic healers, dietitians.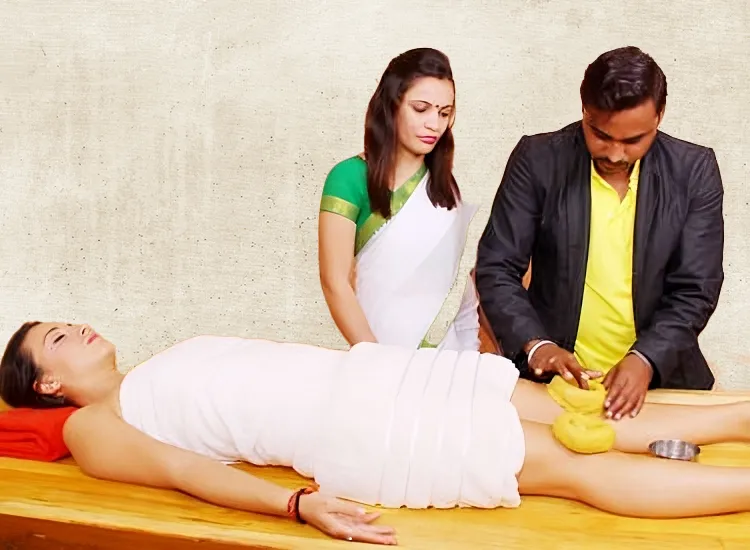 Intensive Ayurveda Course in Rishikesh, India

This is time to reframe your priorities. Step out from a sedentary lifestyle and realize the power of your body. Devote your soul in real-time bliss with Intensive Ayurveda Courses in India. Avail the healing fruits of Mother of Healing Science, Ayurveda by getting into an intensive Ayurvedic world. Restore your energies and say a big bye to all the physical and emotional adversities. Intensive Ayurveda training program teaches the major Ayurveda techniques and massages used over the years to treat human ailments. Haritha Yogshala serves the best Ayurveda courses in Rishikesh that includes Ayurvedic massage training along with details of Ayurveda.
Intensive Ayurveda Training Program
Duration: 5 Days | 15 Hours
Ayurveda is a science that gives knowledge about the causes of disease, the symptoms of the disease and the way to remove the causes and symptoms. Ayurveda is quite distinct from other systems of treatment and medicine.
Our Intensive Ayurveda Training Program provides the introduction of Ayurveda and therapies. It will give you knowledge on five of the most important therapies of Ayurveda which includes:
SHIRODHARA (Shiro means Head and Dhara means Flow)
ABHAYANGA (Full body medicated oil massage)
PODI KIZHI (Potli massage)
KATI BASTI (Lower back treatment)
UDWARTHANAM (Herbal powder massage)
This program will help you to gain deep insights into natural living. Our program is best for Spa & wellness center owners or managers. Anyone who is interested in the knowledge of Ayurveda or who want to include Ayurveda into their services; this program will be ideal and will help to understand the significance of Ayurveda in our lives.
This Program is one of the best Ayurveda intensive Course that includes History of Ayurveda, Philosophies, Wellness Concepts of Ayurveda, Tridosha & Panchakarma theories, and 5 main therapies (above mentioned) of Ayurveda and its practical demonstration. You will not only get to learn the theory but also will be experiencing them practically. This will be a whole package where theory class & practical demo on Ayurveda therapies of along with 5 sessions Ayurveda Treatments; make this program a perfect rejuvenation and educational package for the candidate. After successful completion of the course or workshop, A certificate will be provided to each candidate.
Why Choose Haritha Yogshala for Intensive Ayurveda Training Program?
Haritha yogshala being the Best Yoga School also mark above in ayurveda, the experienced Ayurvedacharayas of our school aims at serving the learners with the best lessons. The ambience of the learning center suits the essence of the course and gives the learners a perfect vibes to experience the aged old Vedic era.
Ayurveda theory sessions
Ayurveda practical sessions
Ayurveda treatment sessions
Daily 1 hour Theory and 1 hour Practical + a one-time Therapy Session experience of:
Abhyangam - 60 Mins
Shirodhara - 45 Mins
Podikizhi - 60 mins
Udwarthanam - 60 mins
Kativasti - 40 mins
Haritha Yogshala being the best Yoga School in Rishikesh extends a variety of Ayurveda Courses in India . As the center is situated in the lap of nature, it gives a pleasurable experience of learning the ethnic Indian sciences of Healing. The holy river the Ganges adds on the learning with a gentle touch of purity thereby connecting one with nature. Haritha Yogshala is situated in the core of the world's Yoga Capital, Rishikesh which makes it the best place to revive that old Vedic time and get a real-life experience of Vedic sciences. Relish the vibrant ambiance of Haritha Yogshala by enrolling in the Intensive Ayurveda Training Program because it is not just the lessons but also the vibes that enrich the learning experience.
Intensive Ayurveda Training Program Curriculum

Ayurveda: An Ancient Science of Life
Introduction of Ayurveda and Principals
Introduction to Basic Ayurvedic Physiological Principals
Introduction to the Anatomy of Ayurveda
Introduction to Basics of Ayurvedic Medicines
Knowledge of the common Ayurveda oils
Sanskrit Ayurvedic Terms
Intro and Practical Session on Ayurveda Therapies:-
Abhyangam
Shirodhara
Podikizhi
Udwarthanam
Kativasti
Dough Preparation and Q&A Session
Course Daily Schedule
Intensive Ayurveda Training Program Syllabus: Day 1 to Day 5

What is Ayurveda?
Origin and History of Ayurveda.
Branches of Ayurveda.
Why to learn Ayurveda? And Its Benefits.
Importance of Ayurveda in Daily Life.
Introduction of traditional Ayurvedic Massage (Abhyangam):
What is Abhyangam?
Importance & Benefits of Abhyangam.
Abhyangam procedure.
Do's and Don'ts of Abhyangam.
Pre & Post requirements of Abhyangam.
Contraindications for Abhyangam.
Abhyangam- Practical.
Abhyangam session.
Introduction to Basics of Ayurveda:
1. Introduction to Panchamahabhuta (Five Elements)
2. Tridosha Concept (Know Your Body)
3. Sapta Dhatus (Seven Tissues)
4. Three Malas (Waste Products)
5. Agni : Understanding of the Vital Source of Life
6. The concept of Health
7. Definition of Health & Disease
Introduction to Shirodhara Therapy:
1. What is Shirodhara?
2. Benefits of Shirodhara Therapy
3. Types of Shirodhara Therapy
4. Shirodhara Procedure
5. Do's and Don'ts of Shirodhara
6. Pre & Post requirements of Shirodhara
7. Contraindications of Shirodhara
Shirodhara - Practical
Shirodhara session
Introduction to Prakriti (Ayurvedic concept of constitution)
Ojas (vigor)
Introduction to Podikizhi Therapy:
1. What is Podikizhi?
2. Benefits of Podikizhi Therapy
3. Types of kizhi's
4. Podikizhi making demonstration
5. Procedure - Podikizhi
6. Do's and Don'ts of Podikizhi
7. Pre & Post requirements of Podikizhi
8. Contraindications for Podikizhi
Podikizhi Practical
Podikizhi Session
Introduction to Basics of Ayurvedic Medicines:
1. Classical
2. Proprietary
Introduction to Udwarthanam Therapy:
1. What is Udwarthanam?
2. Importance and Benefits
3. Procedure Udwarthanam Therapy
4. Do's and Don'ts of Udwarthanam
5. Pre & Post requirements of Udwarthanam
6. Contraindications for Udwarthanam
Udwarthanam Practical
Udwarthanam Session
Prakriti Questionnaire
Introduction to Kativasti Treatment:
1. What is Kativasti?
2. Importance and Benefits of Kativasti Treatment
3. Procedure Kativasti Treatment
4. Do's and Don'ts of Kativasti
5. Pre & Post requirements of Kativasti
6. Contraindications for Kativasti
Dough Preparation
Kativasti-Practical
Kativasti Session
Q&A Session
Intensive Ayurveda Training Program Course Fees - 2023

Language: English
Available: Yes
| Program | International | Indian |
| --- | --- | --- |
| Course Fees (Without Accommodation & Food) | USD 399 USD 299 | INR 24,500 |
| Semi-Deluxe Accommodation & Food (per day) | USD 22 | INR 1,750 |
| Deluxe AC Accommodation & Food (per day) | USD 35 | INR 2,800 |
To apply for the 5 day Intensive Ayurveda Training Course, a non-refundable deposit of $100 or 7,000 INR is required. This amount is included in the prices listed above. You can make the remaining course fees payment after arrival to the course on the first day.
Accommodation facility available in Haritha Yogshala, Rishikesh campus.
After successful completion of course, certificates will be issued by Haritha Yogshala organization.
No classes will take place on Public Holidays.
Please read the Frequently Asked Questions >> for more information.
Upon arrival at the campus, please provide a photocopy of your passport & 2 passport size photographs.
Above rates applicable from 1st Jan, 2023 to 31st July, 2023.