Panchakarma Treatment in Rishikesh, India

Panchakarma Detoxification Treatment
Duration: 7 / 14 / 21 / 28 Days
Ayurveda is not merely a medicinal science but is the art of changing individual lifestyles for achieving health. A healthy body and a healthy mind lead to a longer life without health issues. Panchakarma is one of the best Ayurveda treatments in Ayurvedic science. It achieves a balance between mind, body via the three-step process of detoxification and rejuvenation.
How does Ayurveda Panchakarma Treatment in Rishikesh Work?

As the name suggests, Panchakarma is "Panch" meaning five and "Karma" actions which are done to cleanse the body of toxins. Five different therapies make up the Panchakarma. As per Ayurveda, any therapy has to start with purification.
Haritha offers one week to four weeks comprehensive preventive and regenerative Ayurveda wellness retreat. The body is a system that needs balance to work properly and that is the focus of our retreats program. The focus of this Panchakarma retreat is for detoxifying and rejuvenating the whole body.
Panchakarma Detoxification Treatment Process:

This detoxification retreat is enough for rejuvenating and calming your body, soul and mind. The retreat is pleasingly designed to restore the cosmic purity of your body. Panchakarma Detoxification retreat clean your body by flushing out the toxins and prevents it from unwanted diseases by drawing off toxin accumulation.
The Panchakarma therapy is primarily divided into three distinct steps:
1. Purvakarma - Before therapy procedures (The things done before the actual detoxification starts).
2. Pradhan Karma - Main Detoxification (The major detoxification process).
3. Paschat Karma – Adjusting the diet and the lifestyle after the detoxification is completed.
Panchakarma Treatment Program Highlights
Ayurveda Panchakarma therapies as per treatment plan.
Personal Ayurvedic Diagnosis of the body type.
Detoxification and rejuvenation therapy via Ayurvedic therapies, herbal massage and steam bath.
With Accommodation
Daily yoga, and meditation group sessions. (Optional)
Ayurvedic vegetarian delicious meals. (Optional)
Herbal tea.
Private Single Accommodation with hot shower and Wifi. (Optional)
To experience the serenity of your purified body by the five integrated Ayurveda techniques enroll in the holistic Ayurveda panchakarma treatment in Rishikesh. Rejuvenate your inner-self with the best Ayurveda treatment in India. Lay hold of the natural remedies of India. Redefine your wellbeing with the holy techniques of Ayurveda.
Panchakarma Detoxification Benefits

Panchakarma is a traditional Ayurvedic detoxification and rejuvenation therapy that offers various benefits for overall health and well-being. Here are a few key benefits
Toxin Removal: Clears toxins from the body.
Improved Digestion: Enhances digestive health.
Stress Reduction: Reduces stress and promotes relaxation.
Balanced Doshas: Restores balance in the body's energies.
Enhanced Immunity: Strengthens the immune system.
Skin Health: Improves skin condition.
Accomodation and Food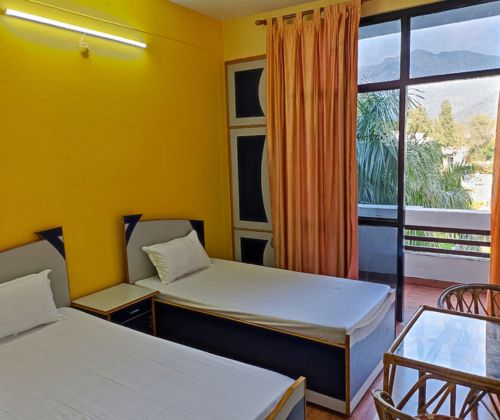 Accomodation
In our Ayurveda retreat in Rishikesh We have comfy rooms with nice beds and beautiful views of himalayas. The bathrooms are clean and have everything you need. We serve tasty vegetarian meals to keep you healthy. Our friendly staff is here to help you with anything you need. It's a peaceful and safe place, close to yoga centers, and it doesn't cost too much. We want you to focus on yoga and have a great time during your stay with us!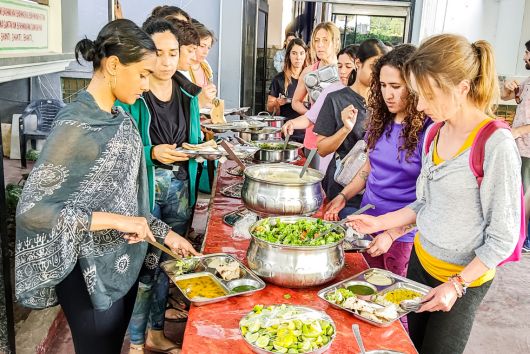 Food in Panchkarma Treatment
During your Panchakarma detox in Rishikesh, enjoy Ayurvedic meals that support your cleanse. Our chefs use fresh, local ingredients to create nutritious, flavorful dishes aligned with Ayurvedic principles. These meals enhance your detox and offer a delightful culinary experience.
Cost of Panchakarma Treatment in Rishikesh - Dates / Prices / Availability 2023 - 2024

Guest Testimonials

Frequently Asked Questions
Find answers to commonly asked questions about our Ayurveda Panchakarma Course below.
Ayurveda Panchakarma is a traditional Indian therapy used to purify and rejuvenate the body, mind, and spirit. It involves five therapeutic treatments: Vamana (therapeutic vomiting), Virechana (purgation therapy), Basti (medicated enema), Nasya (nasal medication), and Raktamokshana (bloodletting therapy).
Rishikesh city in India is known as the "Yoga Capital" of the World and is a popular destination for spiritual seekers and yoga enthusiasts. Because of its holistic vibes if panchakarma will clean your body then the vibes of Rishikesh will clean your negative emotions and you will take away a whole pure body to your home.
An Ayurveda Panchakarma course in Rishikesh is a training program that teaches participants about the principles and practices of Ayurveda and Panchakarma therapy. The course may include lectures, hands-on training, and practical experience.
The benefits of taking an Ayurveda Panchakarma course in Rishikesh include learning about a traditional healing system, gaining hands-on experience with Panchakarma therapies, and experiencing the spiritual and cultural atmosphere of Rishikesh.
The duration of Panchakarma Course is 14/28 days. In 14 days 4 hours/day and in 28 days course 2 hours/day.
The cost of an Ayurveda Panchakarma course in Rishikesh can vary depending on the duration of the course, the level of instruction, and the amenities included. Generally, the cost can range from a few hundred to a few thousand dollars.
The qualifications you receive after completing an Ayurveda Panchakarma course in Rishikesh can vary depending on the course provider. Some courses may offer a certificate of completion, while others may offer a diploma or other type of credential.
Yes, there are various accommodation options available during an Ayurveda Panchakarma course in Rishikesh. You can contact
info@harithayogshala.com
for both the course and nearby reasonable but clean and beautiful accommodations.
While traveling always has some level of risk, however Rishikesh is generally considered a safe destination for travellers. It is very peaceful city and you will get an exposure of the whole world here.
To apply for the Panchakarma Detoxification Program or Wellness Retreat at Haritha Yogshala, Rishikesh, a non-refundable deposit of $100 or 5,000 INR is required. This amount is included in the prices listed below. You can make the remaining retreat fee payment after arrival to the center on the first day.
Treatments will be from Monday to Saturday only.
No treatments will take place on Public Holidays.
Please read the Frequently Asked Questions >> for more information.
To sign up for the Retreat, please bring a valid identity proof.
Above rates applicable from 1st Jan, 2023 to 31st Dec, 2023.