Ayurveda Rejuvenation Retreat in Rishikesh, India

Ayurveda is a path towards healthy wellbeing. To lead a healthy and disease-free lifestyle it's vital to maintain the natural balance of the body. Ayurveda rejuvenation wellness retreat is a way discovered to restore the serenity of your inner-self. This program takes into the various aspects and remedial techniques of Ayurveda to detoxify your body.
Ayurveda Rejuvenation Wellness Retreat takes you to the ocean of purity that washes all the impurities from inside your body rewarding you with a toxin-free lifestyle. The cleanliness of the inner you is always reflected in the outer world you live in. Ayurveda gently cleanses you and prevents the further accumulation of impurities giving birth to rejuvenated wellbeing.
Ayurveda Rejuvenation Retreat:
Duration: 3 / 7 / 14 Days
Ayurveda actually signifies the 'art of life' and depends on the most established therapeutic framework that began for a solid way of life. Ayurveda speaks to a straightforward mending approach comprehensive in nature. It proposes to achieve the profound established reason for the disorder to fix it by knowing oneself.
Why Choose Haritha Yogshala for Ayurvedic Retreat in Rishikesh?

The body is a system that needs balance to work properly and that is the focus of our retreat program. This retreat is for detoxifying and rejuvenating the body. Rishikesh in nature's lap with hilly terrain with unique flora and fauna with the magnificence of Ganga all around is the place of this retreat. Once you have to spend 14 days with us, you will feel like a different person altogether.
Haritha being the finest Ayurveda and best yoga school offers the most effective retreat that revives the holiness of your soul, body, and mind. The Ayurveda consultants at Haritha are experienced enough to diagnose the type of Ayurveda aid your body demands. The proper diet advice, consultation and retreat reward you with a sudden revival of your lifestyle.
Highlights: Ayurveda Rejuvenation Wellness Retreat
Personalized Daily Ayurveda therapies sessions
Daily Yoga group sessions
Daily Meditation group sessions
Personal Ayurvedic Diagnosis of the body type
Ayurvedic cooking introduction and demonstration
Detoxification and rejuvenation therapy via herbal massage and steam bath
Indian Yogic meals
Indian masala tea or herbal tea
Single Accommodation with all essential facilities free wifi and hot shower.
To experience the blaze of rejuvenation in reality, join the Ayurveda Rejuvenation wellness Retreat at Haritha.
Ayurveda Rejuvenation Wellness Retreat Benefits

Ayurveda rejuvenation retreats offer a wide range of benefits for those seeking holistic healing and wellness. Here are some of the key benefits of attending an Ayurveda wellness retreat:
Mental Clarity: Boosts mental focus and clarity.
Balanced Energy: Harmonizes body's energies for balance.
Detoxification: Removes toxins for overall health.
Enhanced Immunity: Strengthens the immune system.
Holistic Wellness: Promotes overall well-being.
Accomodation and Food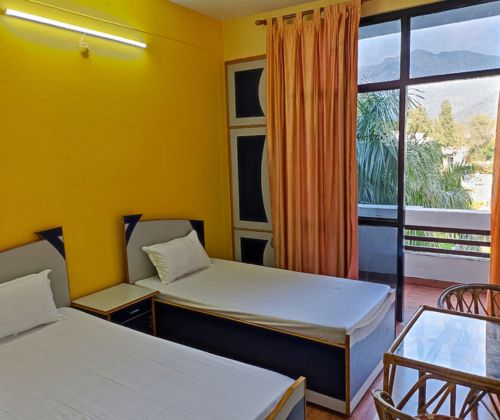 Accomodation
In our Ayurveda retreat in Rishikesh We have comfy rooms with nice beds and beautiful views of himalayas. The bathrooms are clean and have everything you need. We serve tasty vegetarian meals to keep you healthy. Our friendly staff is here to help you with anything you need. It's a peaceful and safe place, close to yoga centers, and it doesn't cost too much. We want you to focus on yoga and have a great time during your stay with us!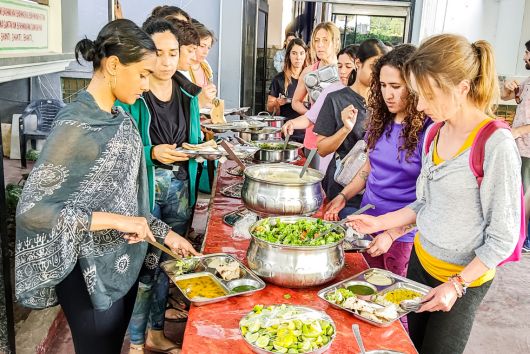 Food in Panchkarma Treatment
During your Ayurveda Rejunevation in Rishikesh, enjoy Ayurvedic meals that support your cleanse. Our chefs use fresh, local ingredients to create nutritious, flavorful dishes aligned with Ayurvedic principles. These meals enhance your detox and offer a delightful culinary experience.
Panchkarma Programme Daily Tentative Schedule

Get a closer look at our daily itinerary, providing you with a clear and organized outline of each day's activities and events.
Daily Schedule
(Only for on campus residential students.)
07:00 AM - 08:00 AM Asana & Meditation Class
09:15 AM - 10:00 AM Breakfast
11:00 AM - 12:00 PM Ayurveda Therapy Session
01:15 PM - 02:00 PM Lunch
02:00 PM - 03:00 PM Rest Time
03:00 PM - 04:00 PM Ayurveda Therapy Session
06:00 PM - 07:00 PM Ganga Arti
07:15 PM - 08:00 PM Dinner
Schedule On Sunday (Excursion Day)
Whole day is Rest / Holiday / Field Visits or Treatments
Includes Breakfast / Lunch / Dinner in Campus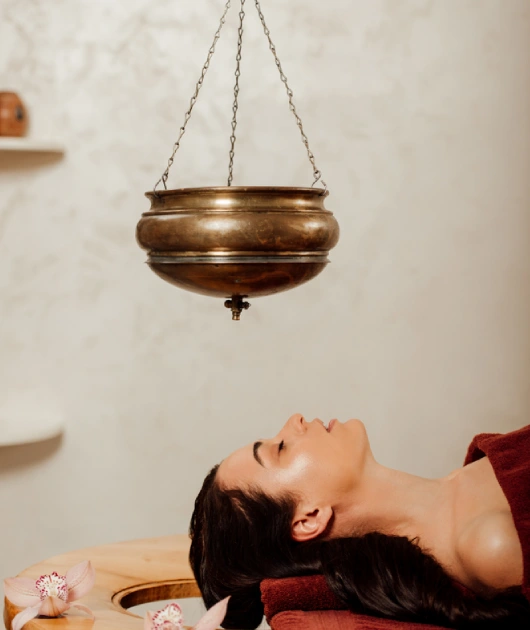 Ayurveda Rejuvenation Retreat - Dates / Prices / Availability 2023

Available: Yes
| Program | International |
| --- | --- |
| Program Fees (Without Accommodation & Food) | USD 199 USD 129 |
| With Semi-Deluxe Accommodation & Food | USD 195 |
| With Deluxe AC Accommodation & Food | USD 235 |
Available: Yes
| Program | International |
| --- | --- |
| Program Fees (Without Accommodation & Food) | USD 499 USD 299 |
| With Semi-Deluxe Accommodation & Food | USD 449 |
| With Deluxe AC Accommodation & Food | USD 539 |
Available: Yes
| Program | International |
| --- | --- |
| Program Fees (Without Accommodation & Food) | USD 999 USD 598 |
| With Semi-Deluxe Accommodation & Food | USD 899 |
| With Deluxe AC Accommodation & Food | USD 1079 |
Guest Testimonials

Frequently Asked Questions
Find answers to commonly asked questions about our Ayurveda Panchakarma Course below.
Ayurveda Rejuvenation is a holistic healing practice that aims to restore balance in the body and mind using traditional Ayurvedic therapies, herbal treatments, and lifestyle adjustments. It promotes overall health and vitality.
Ayurveda Rejuvenation can be beneficial for most individuals, but it's best to consult with an Ayurvedic practitioner to determine if it's suitable for your specific health needs and conditions.
Retreats typically include personalized consultations, Ayurvedic treatments, dietary recommendations, yoga, and meditation. The exact program may vary depending on the retreat.
The duration varies but is often between 7 to 21 days, depending on the retreat and the individual's health goals.
Benefits may include improved energy, stress reduction, better digestion, balanced doshas, enhanced skin health, and an overall sense of well-being.
While weight loss can be a natural outcome of Ayurveda Rejuvenation due to improved digestion and metabolism, the primary goal is holistic well-being rather than just weight reduction.
Dietary recommendations are often provided based on your Ayurvedic constitution (dosha). These may include specific foods to eat or avoid to support your health goals.
When conducted under the guidance of qualified Ayurvedic practitioners, Ayurveda Rejuvenation is generally safe. It is important to disclose any medical conditions or allergies to ensure a tailored and safe experience.
It's essential to inform your Ayurvedic practitioner about any medications you are taking, as they can provide guidance on how to incorporate them into your Ayurveda Rejuvenation plan.
Research online, read reviews, and seek recommendations from trusted sources or Ayurvedic practitioners to find reputable retreat centers in Rishikesh.
To apply for the Ayurveda Rejuvenation wellness retreat at Haritha Yogshala, Rishikesh, a non-refundable deposit of USD 100 or 5,000 INR is required. This amount is included in the prices listed above. You can make the remaining retreat fee payment after arrival to the center on the first day. No treatments will take place on Public Holidays.
Please read the Frequently Asked Questions >> for more information.
To sign up for the Retreat, please bring a valid identity proof.
Above rates applicable from 1st Jan, 2023 to 31st July, 2023.