Ayurveda Weight Loss Retreat in Rishikesh

Ayurveda Weight Loss Treatment
Duration: 7 / 14 / 21 / 28 Days
Obesity has become a significant global health challenge, and it deeply concerns us to witness many individuals underestimating its seriousness. Countless lives are lost due to the health complications associated with obesity. If you are grappling with obesity and seeking an Ayurvedic Weight Loss Treatment, it is crucial to take action promptly. We offer one of the most effective obesity treatment packages in India. Learn more about our Ayurveda weight loss package by exploring the information below.
The Ayurvedic Approach to Weight Loss

Ayurveda, the timeless science of holistic healing, views weight management as a harmonious balance of the mind, body, and spirit. At our center in Rishikesh, we embrace these ancient principles to guide you towards achieving your ideal weight naturally, without resorting to extreme diets or strenuous exercises.
Why Choose a Weight Loss Yoga Retreat?

A Weight Loss Retreat offers a supportive environment for effective weight loss. In today's busy world, it's challenging to maintain a healthy weight, often due to stress and poor habits. These retreats provide focused programs, expert guidance, and a community of like-minded individuals to help you shed pounds sustainably. It's not just about weight loss; it's a path to a healthier, happier you.
Ayurveda Weight lose Retreat Highlights
Learn yoga tools and techniques to manage the challenges of a fast-paced lifestyle.
Get Customized Diet Plans.
Consultation with an Ayurveda doctor.
Get introduced to yogic asanas, meditation techniques, and the profound philosophies that underlie them.
Benefits of Ayurveda Weight lose Retreat

Sustainable Weight Loss: Achieve lasting results.
Mind-Body Balance: Mental clarity and emotional stability.
Detoxification: Remove toxins from the body.
Enhanced Metabolism: Efficient fat burning.
Overall Health: Improved immunity and skin health.
Holistic Well-Being: Feel healthier and vibrant.
Long-Term Results: Maintain ideal weight.
Individual Empowerment: Take charge of your health.
Natural Approach: Minimize side effects.
Balanced Hormones: Essential for weight management.
Accomodation and Food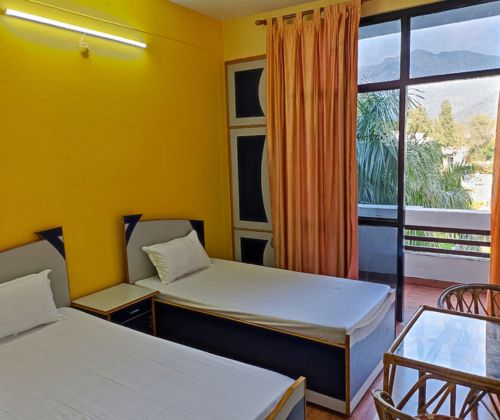 Accomodation
Our place in Rishikesh is like a cozy home for yoga students. We have comfy rooms with nice beds and beautiful views of himalayas. The bathrooms are clean and have everything you need. We serve tasty vegetarian meals to keep you healthy. Our friendly staff is here to help you with anything you need. It's a peaceful and safe place, close to yoga centers, and it doesn't cost too much. We want you to focus on yoga and have a great time during your stay with us!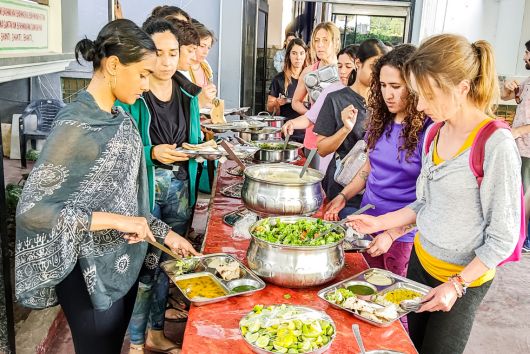 Food
In Rishikesh, the food we offer to our yoga students is both tasty and healthy. We serve mainly vegetarian meals that are packed with delicious flavors. These meals provide you with the energy and vitality required for your yoga practice. We prioritize clean and nutritious food to ensure you feel your best while you're here. Relish our straight forward and wholesome dishes that nourish your body and mind, enhancing your overall yoga Experience.
Ayurveda Weight Loss Package in Rishikesh - Fees / Availability

Available: Yes
| Program | International |
| --- | --- |
| Program Fees (Without Accommodation & Food) | USD 299 USD 249 |
| With Semi-Deluxe Accommodation & Food | USD 399 |
| With Deluxe AC Accommodation & Food | USD 469 |
Available: Yes
| Program | International |
| --- | --- |
| Program Fees (Without Accommodation & Food) | USD 598 USD 498 |
| With Semi-Deluxe Accommodation & Food | USD 799 |
| With Deluxe AC Accommodation & Food | USD 988 |
Frequently Asked Questions
Find answers to commonly asked questions Ayurveda Weight Loss Retreat in Rishikesh
An Ayurveda Weight Loss Retreat is a program that combines Ayurvedic principles, personalized treatments, yoga, and holistic practices to assist individuals in achieving and maintaining a healthy weight.
Ayurveda identifies your unique body constitution and imbalances, creating a customized plan that includes dietary adjustments, herbal remedies, and therapies to support weight loss.
The retreat typically includes personalized Ayurvedic consultations, yoga sessions, meditation, detoxification treatments, and educational workshops on Ayurveda and nutrition.
Retreat lengths vary, but noticeable results may appear within a few weeks to a couple of months. Long-term benefits are achieved with continued practice.
Yes, Ayurvedic weight loss is safe when guided by experienced practitioners who consider your individual needs and monitor your progress.
No prior knowledge is required; the retreat is designed to accommodate beginners and experienced individuals alike.
Yes, the retreat equips you with the knowledge and tools to maintain your ideal weight through Ayurvedic practices and a balanced lifestyle.
Your diet will be customized based on your Ayurvedic constitution and imbalances, but it typically emphasizes whole, nourishing foods.
To apply for the Ayurveda Weight lose Retreat at Haritha Yogshala, Rishikesh, a non-refundable deposit of 100 USD or 5,000 INR is required. This amount is included in the prices listed below. You can make the remaining retreat fee payment after arrival to the center on the first day.
Treatments will be from Monday to Saturday only.
No treatments will take place on Public Holidays.
Please read the Frequently Asked Questions >> for more information.
To sign up for the Retreat, please bring a valid identity proof.
Above rates applicable from 1st Jan, 2023 to 31st Dec, 2023.