Ayurveda beauty care certificate course in Rishikesh, India 2023
Become a Certified Ayurvedic Beauty Expert
Haritha Yogshala offer Ayurveda beauty care certificate course in rishikesh. This beauty course is designed to provide hands on training on Ayurvedic beauty care regimens.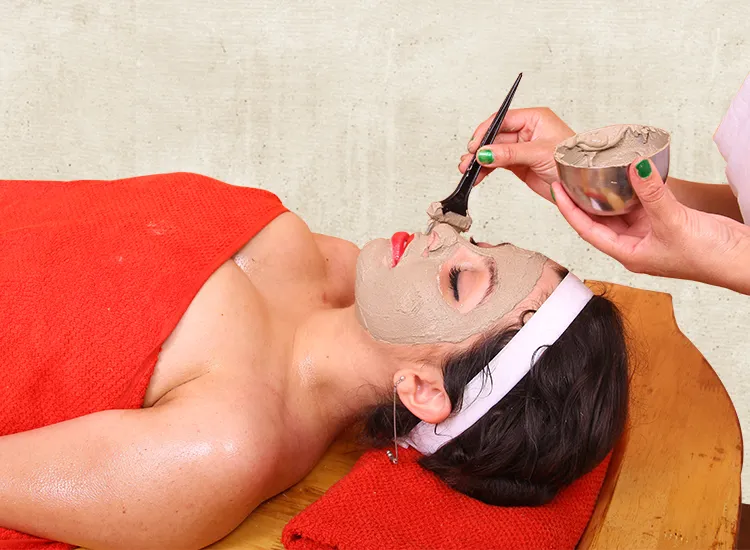 Ayurveda Beauty Course Details
Duration: 5 Days | 15 Hours
Ayurveda Beauty Course at Haritha Yogshala is comprehensive program, designed to immerse you in the ancient wisdom of Ayurveda, focusing on beauty and wellness practices that harmonize the body, mind, and spirit.
Throughout the course, you'll delve into the principles of Ayurveda, understanding your unique dosha and how it influences your skin, hair, and overall appearance. Our experienced instructors will guide you through the art of crafting natural beauty treatments, using herbs, oils, and traditional techniques to enhance your skin's radiance and promote long-lasting well-being.
You'll gain hands-on experience in Ayurvedic skincare routines, learning to create personalized beauty regimens tailored to individual needs. From herbal facials to scalp massages, our Ayurveda Beauty Course covers a wide range of rejuvenating practices that harness the power of nature to enhance your beauty.
Whether you're a beauty enthusiast or a professional looking to expand your skills, this course offers valuable knowledge and practical expertise.
Highlights of Ayurveda Beauty Care Course
Basic understanding of Ayurveda
Symptoms & Management of common beauty problems
Introduction to Concept of Beauty in Ayurveda
Kitchen cosmetics & Medicines Used for Beauty care
Ayurvedic Head Massage (How to make herbal oil and use)
Hair Treatments (For Premature Graying, Brittle Hair, Hair fall)
Herbal Fumigation
Ayurvedic Face Massage & Face care Treatments
Herbal Scrub (How to Make herbal scrub and How to apply)
Herbal Face pack (How to Make herbal pack and How to apply)
Herbal Face Cream (How to make and use)
Herbal facial Steaming
Acne Treatments
Nose Treatments
Eye care Treatments
Skin Care Treatment
Hand and Footcare Treatments
Herbal Body Scrub (How to make and apply)
Ayurvedic regimens for beauty care
Ayurveda Beauty Care Course Fees

Language: English
Available: Yes
| Program | International |
| --- | --- |
| Course Fees (Without Accommodation & Food) | USD 349 USD 259 |
| Semi-Deluxe Accommodation & Food (per day) | USD 22 |
| Deluxe AC Accommodation & Food (per day) | USD 35 |
To apply for the 5 day Ayurveda beauty care course, a non-refundable deposit of 50$ or 4,000 INR is required. This amount is included in the prices listed above. You can make the remaining course fees payment after arrival to the course on the first day.
After successful completion, certificates are issued by Haritha Yogshala organization.
No classes will take place on Public Holidays.
Please read the Frequently Asked Questions >> for more information.
To sign up for the course, please bring a valid identity proof & 2 passport size photographs.
Above fees applicable from 1st Jan, 2023 to 31st Dec, 2023.