Advanced Ayurveda Diploma Course in Rishikesh, India

Ayurveda is a route towards the vibrant ocean of Health and wellbeing. Every human is born with a distinct biological constitution. Advanced Ayurveda Therapy Diploma is an approach to put forth the principles and teaching of ancient India for a disease-free lifestyle while maintaining the individual body constitution. Being an advanced level, of course, it includes the complete knowledge of every aspect of Ayurveda. Also, the course aims at making you experience the real power of the soothing therapies of Ayurveda.
Advanced Ayurveda Therapy Diploma Course
Duration: 45 Days - 4 Hour/Day || 90 Days - 2 Hour/Day
Ayurveda diploma certificate course in Haritha Yogshala trains students to treat the diseased with herbal medicines and therapies of Ayurveda. This course is a holistic approach to health. This course incorporates both theoretical and practical sessions of this Indian healing science.
People keen on finishing a diploma certificate program in Ayurveda may discover authentic certification programs hard to find; be that as it may, there are courses available at Haritha to learn and put in place the ancient method of treatment effectively. The Certificate in Ayurveda Program is ideal for students wishing to imbibe the in-depth knowledge of Ayurveda into their health hone.
This Ayurveda diploma certificate course makes the understudies ready to fill in as Ayurveda specialists. Furthermore, you can coordinate as Ayurvedic rehearses in another wellness-industry related profession. This is an advanced diploma in Ayurveda where students gain an insight of ideas behind this branch of esoteric Indian knowledge.
Who this course for?

Discover who can benefit from our course.
Yes
Aspiring Ayurvedic practitioners.
Wellness enthusiasts seeking in-depth knowledge.
Healthcare professionals expanding their expertise.
Individuals passionate about holistic healing.
Those pursuing a career in traditional medicine.
Anyone interested in Ayurvedic wellness practices.
No
Individuals looking for a quick or superficial understanding of Ayurveda.
Those seeking purely Western medical training.
People who are not interested in holistic or alternative healing methods.
Anyone not willing to commit to a comprehensive Ayurvedic curriculum.
Individuals with no interest in traditional wellness practices.
Why Choose Advanced Ayurvedic Course in Rishikesh?
The Advanced Ayurveda Therapy Course in Rishikesh will cover the history & principle of Ayurveda, the concept of disease in Ayurveda and methods of diagnosis, the study of common diseases, Ayurveda and Panchakarma treatments therapies, Ayurveda Nutrition & Cooking, Marma Points in the human body, preparation of Ayurvedic medicinal oils. Theory class & practical demo on Ayurveda therapies along with a self-experience of Ayurveda Therapies; A certificate will be provided to you after successful completion of the course.
Highlights: Ayurveda Therapy Course in Rishikesh
Advanced Ayurveda Course lays down everything that completes your learning in Ayurveda. Your days of learning may look like as follows:
Ayurveda theory sessions
Ayurveda practical sessions
With Accommodation
Daily yoga, and meditation drop-in class (optional)
Delicious Ayurvedic meals
Indian Masala Tea or herbal tea
Single Accommodation with attached bath with hot shower
To dive into the core of ancient Ayurveda learning, join to learn best Ayurveda in Rishikesh today. Haritha ensures a rejuvenating experience of learning Ayurveda in Rishikesh. Besides the best Ayurvedic course, the school also makes sure about the excellent ayurvedic therapist. The efficient and experienced Ayurveda teachers impart the best Ayurveda training course in Rishikesh.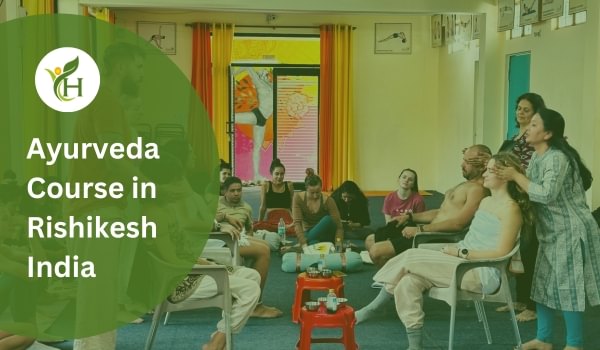 Advance Ayurveda Therapy Diploma Courses Curriculum

The "Advanced Ayurveda Diploma Course Syllabus" provides a detailed overview of the curriculum and topics covered in our training program
1. INTRODUCTION TO AYURVEDA and History
2. Definition of Ayurveda
3. HISTORY OF AYURVEDA
4. BRANCHES OF AYURVEDA
5. PHILOSOPHY OF AYURVEDA
6. THE CONCEPT OF HEALTH AND DISEASES
7. CONCEPT OF PANCHA MAHABHUTA
8. CONCEPT OF TRIDOSHA (VITAL ENERGIES)
9. CONCEPT OF SAPTHA DHATUS (BODY TISSUES)
10. CONCEPT OF MALAS (WASTE PRODUCTS)
11. CONCEPT OF AGNI (DIGESTIVE FIRE)
12. CONCEPTS OF KOSHTA (ALIMENTARY TRACT)
13. CONCEPT OF DEHA PRAKRUTI (BODY TYPE)
14. CONCEPT OF ROGA MARGA (PATHWAY OF DISEASE)
15. CONCEPT OF DISEASES
16. CONCEPT OF AYURVEDA NUTRITION & COOKING
17. POORVA KARMA (PREPEFATORY PROCESS OF PANCHAKARMA)
18. SNEHA KARMA
19. ABHYANGA (EXTERNAL OLEATION THERAPY)
20. SHIRO ABHYANGA (OLEATION OF HEAD)
21. MUKHA ABHYANGA (OLEATION OF FACE)
22. SWEDA KARMA (SUDATION THERAPY)
23. TAPA SWEDA (FOMRNTATION)
24. UPANAHA SWEDDA (SUDATION USING WARM POULTICE)
25. USHMA SWEDA (SUDATION USING HERBAL STEAM & BOLUS BAGS)
26. DRAVA SWEDA (SUDATION USING STEAM)
27. PANCHAKARMA THERAPY
28. DETAILS & DESCRIPTION OF:

- VAMANA (EMESIS THERAPY)
- VIRECHANA (PURGATION THERAPY)
- VASTI (ENEMA THERAPY)
- NASYA (NASAL CLEANSING)
- REKTAMOKSHA (BLOOD LETTING THERAPY)
- MARMA POINTS (107 Vital points)

29. METHOD OF PULSE DIAGNOSIS
30. STUDY OF COMMON DISEASES (CAUSES, SYMPTOMS, TREATMENT)
31. PROPERTIES AND USE OF VARIOUS HERBAL OILS
32. STUDY OF COMMON AYURVEDIC PLANTS
33. INTRODUCTION OF YOGA THERAPY
1. AYURVEDIC HEAD MASSAGE
2. AYURVEDIC FACE MASSAGE
3. ABHYANGAM (FULL BODY MASSAGE)
4. MARMA MASSAGE
5. SHIRODHARA - with OIL
6. SHIRODHARA with medicated MILK
7. SHIRODHARA with BUTTER MILK
8. ELAKIZHI Massage (Bags of Herbal Leaves)
9. PODI KIZHI Massage (Bags of Herbal Powders)
10. NAVARA KIZHI Massage with Bags of Herbal Rice
11. UDHWARTHANA Dry Massage with Herbal Powders
12. KAYA SEKA - Oil Bath
13. KADEE VASTI - Local Treatment for Back Ache
14. GREVA VASTI - Local Treatment for Neck Pain
15. JANU VASTI - Local Treatment for Knee Problems
16. NASYA - Cleansing of Head through Nasal Medication
17. PULSE DIAGNOSIS- Practice session
18. THALAM
19. SNEHAPANA
20. AKSHITARPANA
21. PINDI & VIDALAKA
22. NETRAPRAKSHALANA
23. EYE EXERCISE
24. ANNALEPANA FOR EYE
25. ASCHOTAN ANJAN
26. DHOOMAPANA
27. KARNAPOORANA
28. KARNADHOOPANA
29. MATRAVASTHY
30. ANUVASANAVASTHY
31. KASHAYAVASTHY
32. NETRADHARA
Accomodation and Food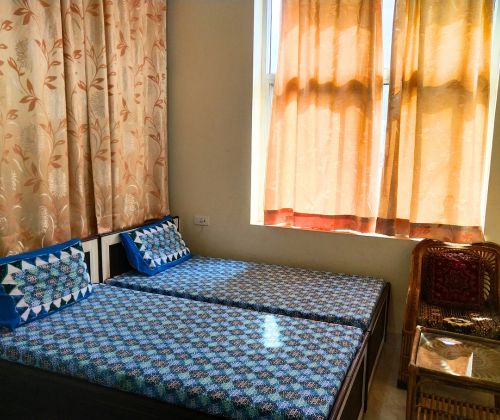 Accommodation for Ayurveda Diploma students
For Ayurveda diploma students who stay with us for more than a month, a special property is given to them. This property not only cut down the cost of stay but also provides all essential amenities for a long memorable stay. This property charges month wise rather than per night.
It is very near to our academy just few steps to reach your class and mess. It has beautiful, clean rooms to have a long, comfy stay. It's ambiance offers unique sense of relaxation so that you can completely focus on learning.
Here also you will get free Wi-Fi, king size bed, hot water for shower, attached washroom and clean drinking water. The staff is also very dedicated and helpful. For any essential need you can visit the nearby market to shop and can enjoy nearby hot tourist attractions easily every morning and evening in your leisure.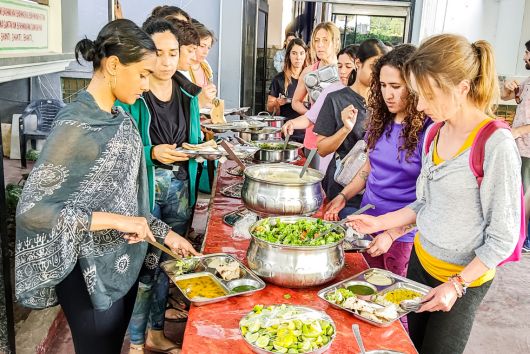 Food
During your Ayurveda course in Rishikesh, you'll enjoy nourishing, yogic meals prepared with fresh local ingredients. Our food supports your studies and well-being, aligning with Ayurvedic principles to enhance your learning experience.
What's Included

Non-residential participants
Ayurveda theory sessions as per course schedule
Ayurveda practical Sessions as per course schedule
Course manual
Herbal Tea
Excursions - 02
45/90 Nights accommodation
3 Meals a day
Herbal tea / Juice
Yoga & Meditation Group Sessions(Optional)
Excursions - 02
Haritha Yogshala Daily Schedule

Each day is always different and Explore work with the flow of the group, however, this is an idea of how your days might look.
Daily Schedule
(Only for on campus residential students.)
06:30 AM Morning Tea
07:00 AM Yoga & Meditation Group Session
09:00 AM Breakfast
10:00 AM Ayurveda Theory Classes
01:00 PM Lunch
03:00 PM Ayurveda Therapies Practical Session
04:00 PM Tea Break
04:30 PM Continue Ayurveda Therapies Session
06:00 PM Ganga Aarti
07:00 PM Dinner
08:00 PM Self Study
10:00 PM Lights Off
Schedule On Sunday (Excursion Day)
Whole day is Rest / Holiday / Field Visits
Includes Breakfast / Lunch / Dinner in Campus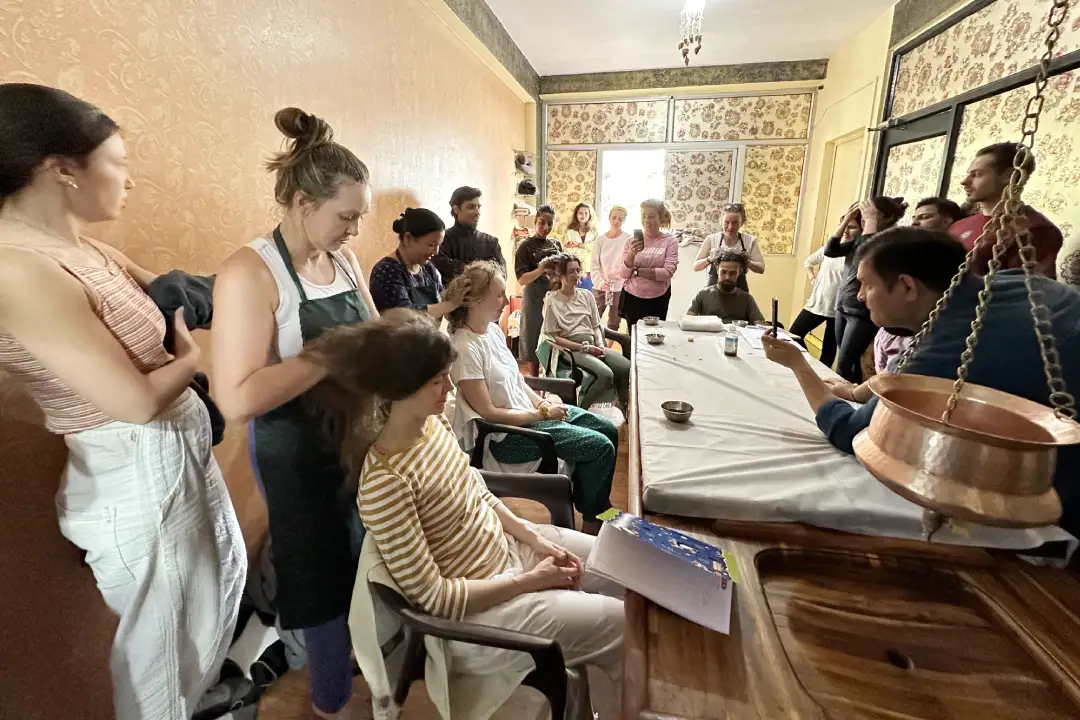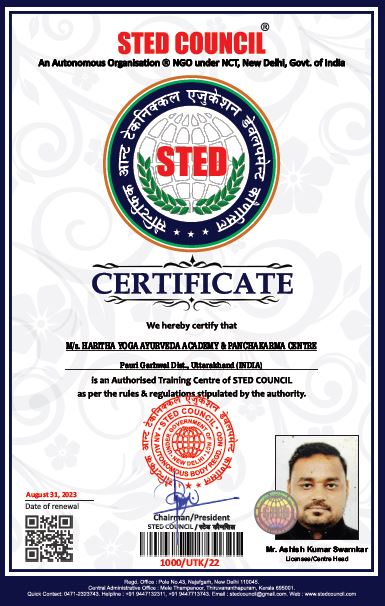 STED COUNCIL AFFILIATION
School of Ayurveda and Panchakarma is the only Ayurveda Institute in Rishikesh having affiliation to STED council (Scientific and Technical Education Development Council) affiliated to the Government of India, which makes our certification accepted world over and enable students' practice across the globe.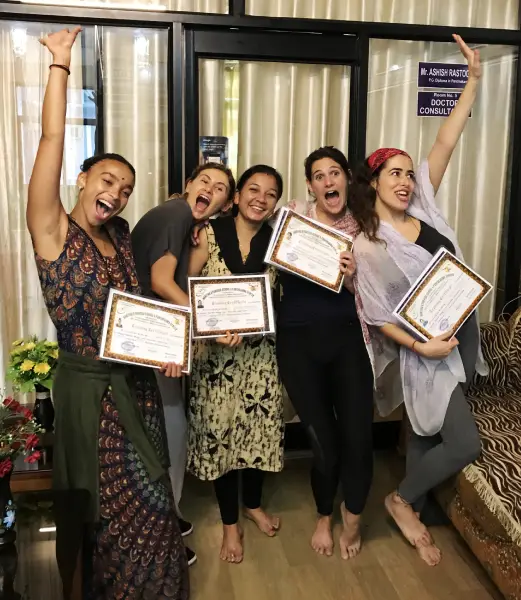 Advanced Ayurveda Diploma Course Fees, Upcoming Dates & Accommodation - 2023-24

Frequently Asked Questions
Find answers to commonly asked questions about our advanced ayurveda diploma
An Advance Ayurveda Therapy diploma course is a training program that provides in-depth knowledge and practical training in various Ayurvedic therapies. The course covers advanced techniques, principles, and concepts of Ayurvedic therapy, enabling students to provide therapeutic services professionally.
The Advance Ayurveda Therapy diploma course is typically 90 days long course offered by Haritha Yogshala.
The prerequisites for an Advance Ayurveda Therapy diploma course may vary depending on the course provider. Generally, a basic understanding of Ayurvedic principles and practices is recommended. We at Haritha Yogshala start from fundamentals so that a beginner can also understand easily.
An Advance Ayurveda Therapy diploma course covers various topics, including advanced techniques of Panchakarma therapy, Ayurvedic diagnosis, diet and lifestyle recommendations, herbal medicine, and the principles of Ayurvedic psychology.
The benefits of taking an Advance Ayurveda Therapy diploma course include gaining in-depth knowledge and practical training in Ayurvedic therapies, enhancing your professional skills, and improving your career prospects in the field of Ayurvedic therapy.
After completing an Advance Ayurveda Therapy diploma course, you will receive an Ayurvedic Diploma Certificate accepted worldwide.
After completing an Advance Ayurveda Therapy diploma course, you can work as an Ayurvedic therapist, wellness consultant, or health coach in various settings, such as wellness centres, spas, clinics, and hospitals.
To apply for the Advanced Ayurveda Therapy Diploma Course, a deposit of $200 is required which is non-refundable. This amount is included in the prices listed above. You can make the remaining course fees payment after arrival to the course on the first day.
We take limited number of students in Ayurveda training programs, so advance registration is required.
After successful completion, certificates are issued by Haritha Yogshala organization.
Classes will be from Monday to Saturday only.
No classes will take place on Public Holidays.
Please read the Frequently Asked Questions >> for more information.
To sign up for the course, please bring a valid identity proof & 2 passport size photographs.
Above rates applicable from 1st Jan, 2023 to 31st Dec, 2023.